Spraying and Weed Control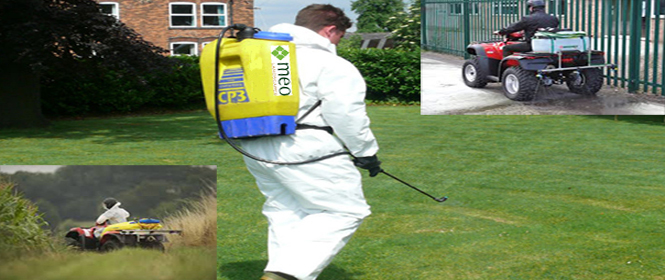 Meo landscapes contract spraying and weed control services can take care of all aspects of spraying with their specialist weed control program. Working with Local Farming suppliers and Agronomist to offer technical and accurate back up we can use the most effective Herbicide Control with all and any projects.
Our operatives are City & Guilds NPTC qualified in the safe use of pesticides (PA1 PA2& PA6).
We incorporate target injection, plugs, and knapsack, ATV and tractor applications for a variety of size projects, including Industrial, commercial, domestic, forestry and public areas, working for Local Authorities, Land owners, Domestic Homeowners, Land Agents and Conservation Organizations.
We can apply your chosen herbicide around building lines, hard standing, Roads and car parks, tree bases, fence lines and pathways. We can also treat more problematic harder to treat weeds such as Japanese Knotweed, Brambles, Giant Hogweed, Ivy, Thistles, Nettles, Ragwort Himalayan Balsam using our specialist weed control techniques. Benefit from our professional advice to ensure the right herbicide is used to provide optimum results.
Sometimes however we have to result in alternative eradication methods including hand weeding or more the more dramatic complete contaminated soil removal.
Treatments start as little as £65.00 (Guide only)
 

Call outs across East Anglia
Multiple jobs also undertaken including: Scrub and Land Clearance, Stump Grinding, PASTURE MANAGEMENT, WEED WIPING.