Stone Picking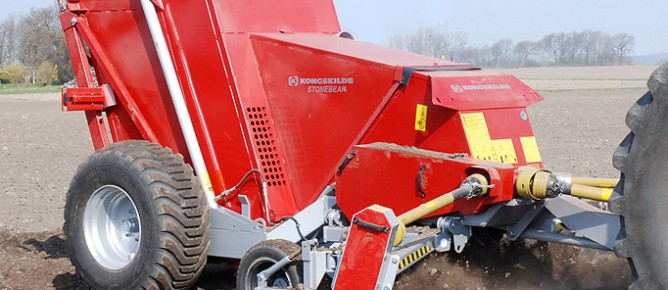 Stone Picking:
Stone picking is a service available from Meo Landscapes. Available as part of a seeding project or as a Sub –Contracting Service.
Having many years of experience within the Agricultural industry operating stone and clod separators in Agriculture and field scale stone collecting for the turf growing industry.
We use mainly Blec machines for Gardens and Turf/Seed Preparation after grading and cultivations:
We use machines specially designed for the removal and collection of stones in one operation. This helps to keep both the cost and the time needed to complete the job for our customers down to a minimum operating 3 machines for various scale stone collecting.
For Large Scale or field operations we use a Kongskilde Contracting Machine:
Operating a range of equipment enables Meo Landscapes to undertake projects of various sizes, the removing unwanted stones from fields, gardens, roads, and construction areas with the most popular application for ground preparation in advance of seeding.
Collection of stone from larger scale areas also offers a valuable by-product with stones collected varying in sizes of approximately 28 mm to 30 cm that can be used as sub base, roads drainage or trackways. Our methods have also been applied to beach cleaning and track re-instalment.
Other Meo Landscape services include
Grass Cutting
Farm Tracks and Roadways
Soil Grading
Seeding
Equine livestock paddock seeding
For more information or a site visit and quotation please call us on 01508 480461