Vegetation Control and Grass Cutting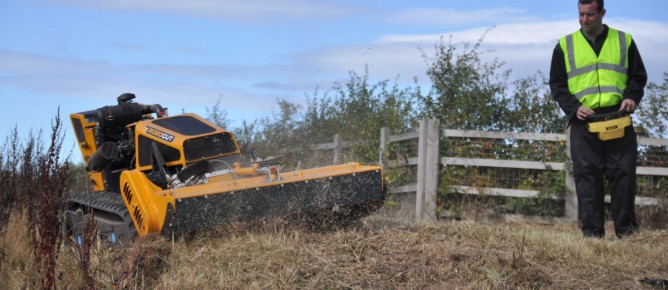 Vegetation Control and Grass Cutting
For Vegetation control applications MEO GROUNDSCAPES use remote control technology, alongside conventional brush cutting  we use a MacConnel Robo for a variety of cutting projects. Using this machine with its all weather and all terrain capabilities enables us to access hard to reach or difficult working environments like woodland thickets or embankments. Using the Robo enables us to take the operator out of any danger zone and accessing  360*  visibility ensuring public safety and a efficient work pace that is massively cost effective, we can operate the machine with uses both in the Commercial and the Domestic market as well as local authorities and land management organisations.
Capable of tackling slopes up to 50 degrees, the machine can reduce the cost of brush cutting by 50% and enable areas previously untouched to be cleared.ROBOCUT thrives in the toughest terrain, making it easy to work on busy highways, embankments, railway sidings, steep-slopes or riverbanks. It ensures safe, productive working without risk to life and limb.From snow clearance to forestry, grass cutting to quarry maintenance
Hire our machine including Man, Fuel and Delivery for as little as £250.00.
 https://www.youtube.com/watch?v=UXUYW8SZQYw&feature=player_embedded
 Call outs across East Anglia
Multiple jobs also undertaken including: Scrub and Land Clearance, tree and hedge felling and Stump Grinding.
Up to 25 times faster than manual cutting
Tackles slopes up to 55 degrees
150m working range